Louise Abbéma
Fillette au ruban bleu
pastel sur toile, vers 1895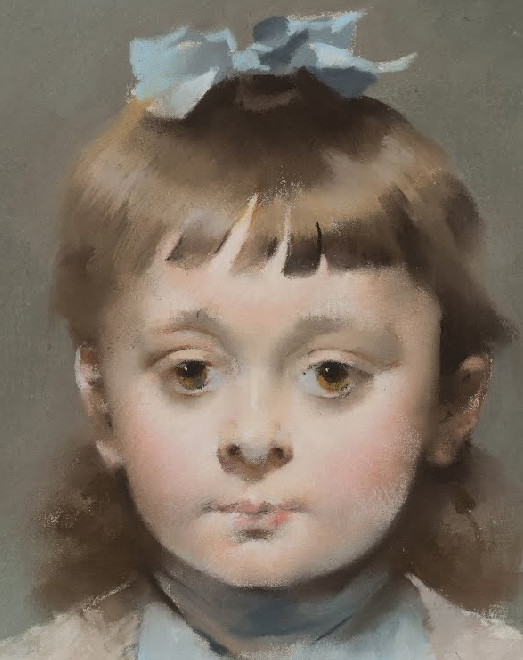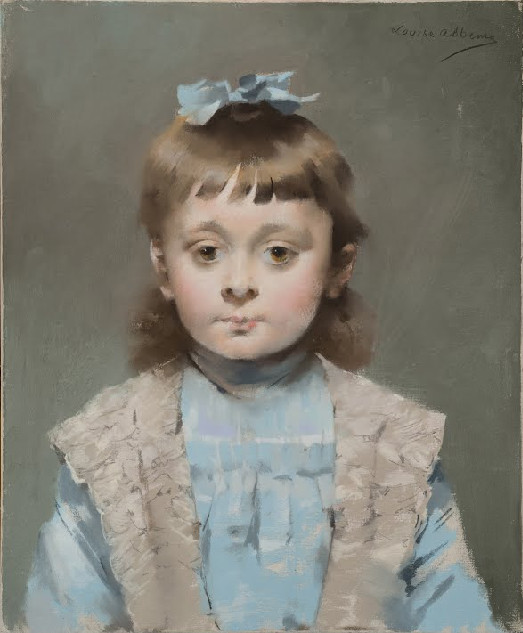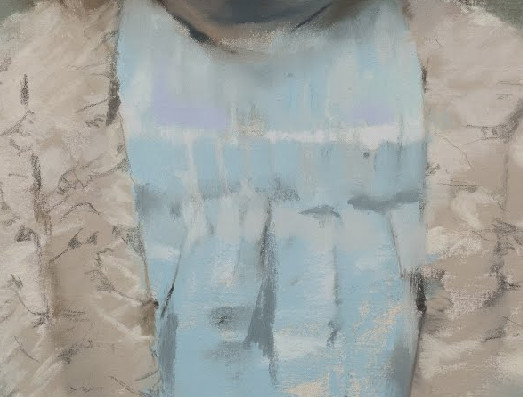 Fort peu de données sur l'origine de ce pastel inconnu du catalogue Droin de 1993, et qui mesure 25,5 cm sur 38, sinon qu'elle daterait des environs de 1895.

Elle appartient actuellement au Musée National des Femmes dans les Arts de Washington (district de Columbia), à la suite d'un don de Wallace et Wilhelmina Holladay. Elle est conservée sous le titre Portrait of a Young Girl with a Blue Ribbon, et le site internet de ce musée en propose un commentaire des plus intéressant. On y trouve en effet une argumentation remarquablement précise et convaincante en faveur d'une légère influence de l'impressionisme sur Louise Abbéma, très ponctuelle à la vérité dans son œuvre.



MNWA's Commentary

Notice du MNWA

Louise Abbéma's Portrait of a Young Girl with a Blue Ribbon demonstrates the influence of Impressionism on her style, as well as her skill with pastels. Unblended strokes of pastel crayon, particularly in the girl's dress, work together to suggest the texture of the blue material, rather than rendering it in fine detail. In certain areas, Abbéma lets the blank canvas show through, an effect often used by Impressionist artists such as Berthe Morisot.

Abbéma's frank and un-sentimentalized portrayal of her sitter is unusual in her oeuvre; her most typical subjects are genre scenes, allegories, and portraits of women.


Le Portrait d'une fillette au ruban bleu de Louise Abbéma démontre l'influence de l'impressionnisme sur son style, ainsi que son talent pour les pastels. De simples coups de crayon de pastel, en particulier dans la robe de la fillette, s'associent pour suggérer la texture du matériau bleu, plutôt que de le rendre dans les moindres détails. En certains points, Abbéma laisse transparaître la toile blanche, effet souvent utilisé par des artistes impressionnistes comme Berthe Morisot.

La représentation franche et non sentimentale d'Abbéma de son modèle est inhabituelle dans son œuvre; ses sujets les plus typiques sont les scènes de genre, les allégories et les portraits de femmes.





Bernard Gineste, 2017




BIBLIOGRAPHIE Édition Sources


UNIVERSITY OF WISCONSIN - RIVER FALLS, «Louise Abbema: Port. of Young Girl (1897)» in «Gay and Lesbian Artists» in ID., Art History Study Prints, University of Wisconsin - River Falls, http://www.uwrf.edu/history/prints/women/louiseabbema.html, en ligne en 2003.

NATIONAL MUSEUM OF WOMEN IN THE ARTS, «Louise Abbema: Portrait of a Young Girl with a Blue Ribbon», in ID., The Permanent Collection, https://nmwa.org/works/portrait-young-girl-blue-ribbon, en ligne en 2017.



Toute critique, correction ou contribution sera la bienvenue. Any criticism or contribution welcome.